EVlink Management Services
Charging infrastructure energy management and supervision solutions
-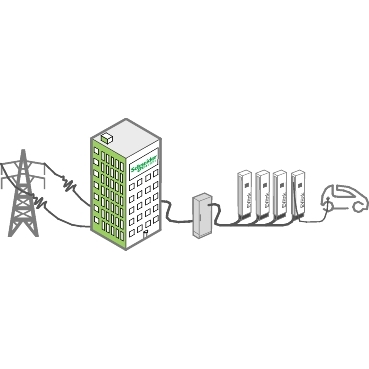 Features


Thanks to an energy management solutions and an embedded web server, charging infrastructure owners can manage in real time their charging stations.
Parking stations managers can have access to data in real time through a personalized web interface.
They can adapt the energy dedicated to EVlink installations
They can also establish charging scenarios according to their own priority rules.



Benefits


EVlink Parking stations owners and managers can optimize and manage more efficiently their charging infrastructure while reducing costs.


Avoids facility disruption, causing operating losses.
When a large number of devices in the facility and the charging station are operating
simultaneously, the total current is limited and avoids the risk of a facility black-out.

Reduces energy and electrical infrastructure costs.
The energy contract is subscribed for a capacity below the total load.
The power demand is limited and avoids the risk of leading to overrun penalties or extra costs to bolster the facility's power supply and distribution network.

Increases driver satisfaction
Each charging station supplies the maximum available energy. VIP badges identified on the station's charging points provide charging priority advantages for sales representatives or customers.

Makes operations more efficient.
Each socket outlet is defined with a maximum power, to allow for its use and location.

The list of authorized badges is centralized to save time for updates.

Applications


EVlink Management Services are perfectly adapted to parking lots located in condominium, private parking area and on-street. Energy Management could be implemented for:
- Stand alone charging station
- Cluster of charging stations supplied by the facility network
- Cluster of charging station directly supplied by the utility grid.